Type:
Deep groove ball bearing
Contact:
Whatsapp&wechat: +86-13793139361
---
DAOQI PARTS are one of the professional bearing suppliers in china. The best price and free samples 6310 bearing will be provided for all customers. Please don't hesitate to contact us. More than 20 years of OEM ,ODM services.
Groove ball 6310 bearing introduction
The 6310 steel ball bearing is a deep groove ball bearing. This is also the most common type of roll bearing. It has an inner ring, an outer ring, a cage, and several steel balls, just like other radial bearings. Of course, we can also supply metal bearings, stainless steel ball bearings, plastic ball bearings, and ceramic bearings to meet the needs of various customers.
We can also provide higher precision balls bearing. Ceramic ball bearings, for example, can reach temperatures of 350 degrees Celsius. Groove bearing 6310ZZ is a shielded bearing with three types of seals: rubber, iron, and open. The groove ball bearing has become a very popular high-speed bearing due to the continuous development of industrial equipment. Technical experts have recognized its common manufacturing process, simple structure, and ease of installation. More importantly, it is more cost effective, qualified, and precise than other types of bearings.
Steel ball 6310 bearing features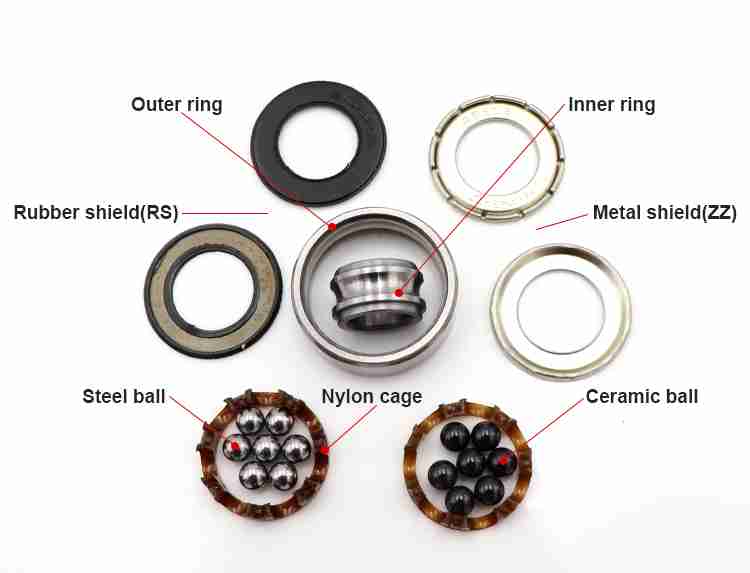 loose ball bearings for low noise and keep the fast speed.
Running at stable speed to keep high efficiency.
Precision bearing, the material is stainless steel for long life, we have 3 years quality warranty.
Precision and secret technology, corrosion-resistant and wear-resistant miniature ball bearing rollers.
DAOQI PARTS are a china manufacturer for different types of bearing. We have ball bearings home depot on Hong Kong, Malaysia. The large inventory to ensure fast delivery time, only 2-3 days.
Sealed bearing 6310ZZ bearing size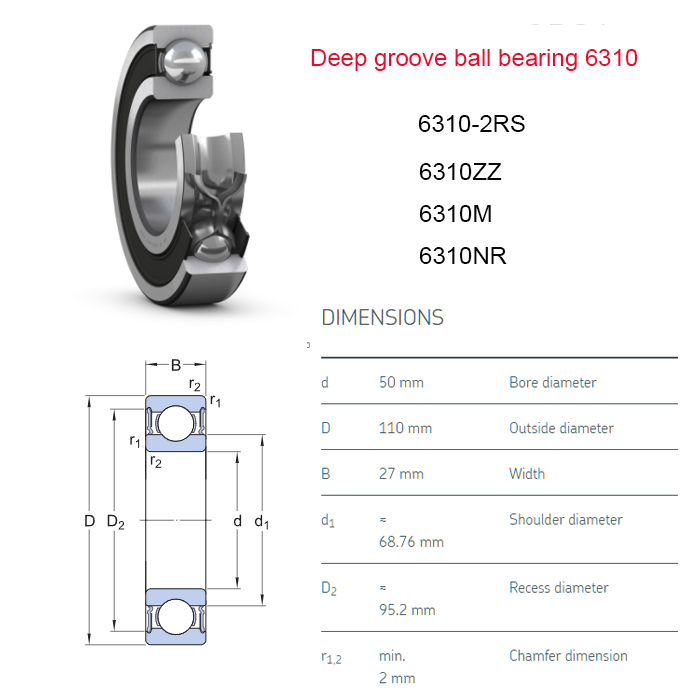 Application of 6310 bearing
The deep groove ball 6310 bearing is made up of three parts: an inner ring, an outer ring, and a cage. The outer ring has a retainer with some precision balls. Because of the groove ball bearing design, the machines have reduced friction and power loss. Groove ball bearing 6324 is widely used in a variety of applications. They are suitable for a wide range of equipment due to their various sizes. Mining, paper machinery, heavy machinery, industries, agricultural machinery, farm vehicle, hardware tool, electric power tool, and so on are examples. At the same time, we see small ball bearings everywhere in our lives, such as skateboard wheel bearings, bike wheel bearings, reel bearings, and ball bearing drawer slides.
More types bearing of DAOQI PARTS
DAOQI PARTS offers online support 7 days a week, 24 hours a day. All products come with a three-year quality guarantee. Please contact us if you have any inquiries or questions. Samples can be sent to you for free for quality testing. At the same time, we can supply bearing pullers, journal bearings, linear bearings, bush bearings, carrier bearings, magnetic bearings, sprocket chains, couplings, and other components.