Ball bearing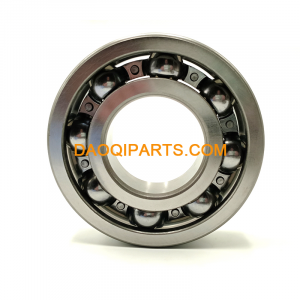 What is ball bearing
Ball bearing is a kind of rolling bearing, it can not only bear a large load but also the speed far exceeds that of a roller bearing. All bearings are composed of the inner, outer ring, cages, and rolling elements. As the name suggests, the rolling elements of wheel bearings are steel balls.
Category of ball bearings:
Under the same rolling element, according to the shape, force direction, load size, and different working environments, carrier bearings can be divided into four categories: deep groove bearing, self-aligning bearing, angular contact bearings, thrust ball bearings, and Ceramic bearings. Of course, if you want to learn more about other classifications and applications, please contact DAOQI PARTS. The professional technical team will give you the most professional answer.
In today's society, the most famous bearing brand is Sweden bearing. At the same time, with the continuous improvement of technology, journal bearing, hub bearings, cam follower and sleeve bearings made in China have gradually grown.
As the best supplier in china, DAOQI PARTS agent some brand of famous bearing, we have more than 20 years experience for bearing product. In addition, our team has the best experience of No-Standard bearing. If have any requirements for OEM service, it is easy for us.