Needle bearing BK1516
Type:
Needle roller bearing
Contact:
Whatsapp&wechat: +86-13793139361
Short description
Needle bearing BK1516 has a large stock in Hong Kong and Malaysia, the fast delivery and free samples will be provided.  DAOQI PARTS are the best supplier for all kinds of needle bearing, three years warranty, best price, free samples, more than 20 years OEM service.  
Needle bearing BK1516 service and classification
Compared with other types of needle roller bearing, the size of needle bearing BK1516 is more flexible and diverse. Although the cross-section is small, the bearing still has a high load capacity. So it is especially suitable for equipment with restricted installation dimensions. Needle BK1516 roller bearing is the most commonly used needle roller bearing.

There are three categories of needle roller bearing: drawn cup needle roller bearings, needle bearing without inner ring, needle rollers, and cage assemblies. Of course, Cam followers is also a kind of needle bearing. Needle roller bearing has so many applications, such as Agricultural machinery, impeller pump, loading ramp, electric man lift, etc.

Drawn cup needle roller bearing can provide OEM services in a variety of sizes, materials, and varieties according to customer needs. Include special industrial uses, such as high-temperature applications. We have more than 20 years experience of in OEM and ODM service. Therefore, if you have any customized bearings plan, please contact us. We will provide you with free drawings.
Needle roller BK1516 bearing features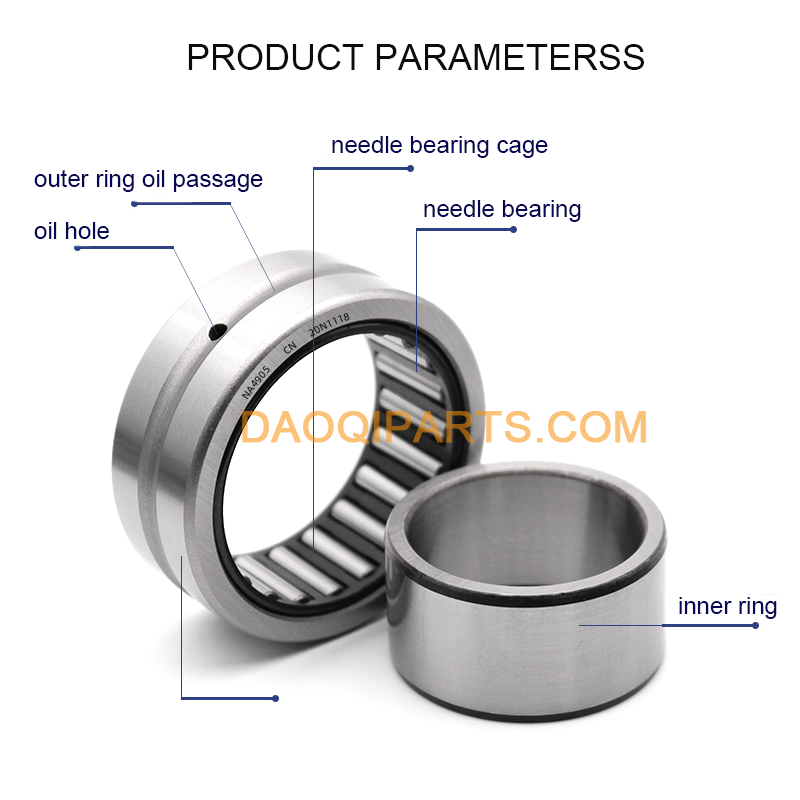 High-strength manufacturing, durable, strong endurance, high processing accuracy
We can provide OEM/ODM service, all sizes will follow your request.
It is suitable for printing presses, steel plants, agricultural machinery, etc. There are steel protection, copper protection, and nylon retainers for your choice.
If you want to know more types of needle bearing size, please contact us. We will provide a free 3D drawing.
Needle roller bearing size is the most complicated, it include one way needle bearing and types of cam follower.
Needle bearing BK1516 size chart: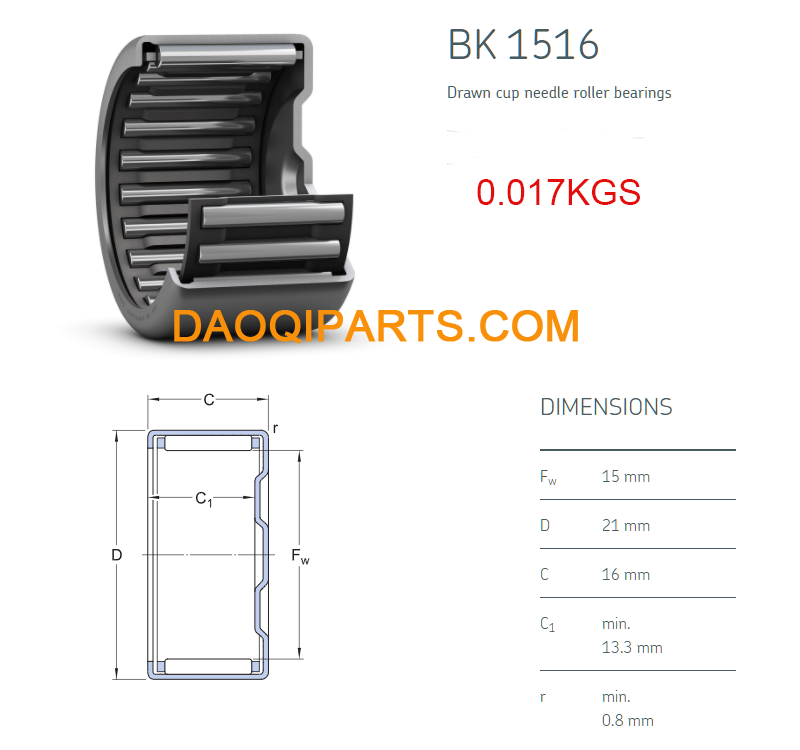 Steel roller bearing BK1516 supplier
DAOQI PARTS is a professional company bearing manufacture and bearing distributor, after 20 years of hard-working, now become one of the leading dealers in the bearing industry. Our scope of business throughout all over the world, Now we have built up our warehouse in HONGKONG, Malaysia. Meanwhile, we can provide sealed roller bearing, needle thrust bearing, tapered wheel bearing, split roller bearing, conveyor bearings, cross roller bearing, etc. For all products, we provide 3 years warranty and free sample service.