Bearing housing PFL203
Type:
Pillow block bearing housing
Contact:
Whatsapp&wechat: +86-13793139361
Short description
Bearing housing PFL203 of cast steel structure has no special requirements for the use environment and temperature. We can also provide UCP, UCF, UCFC, UCT, UCL, UCPA series mounted bearing and have 3 years warranty. More than 20 years of OEM ,ODM services.
What is bearing housing PFL203
Flange bearing housing PFL203 is a ball bearing units composed of insert bearing UC203 and bearing housing PFL203. The outer diameter of the bearing and the inner diameter of the housing are spherical. We can choose different types of bearing housing according to the number of bolts and hole spacing.
PFL203 flange bearing is an insert bearing. From its name, we can easily know that the outer ring is a sphere. Although the design and performance are the same as deep groove ball bearings, they are typically used in rougher agricultural machinery. The three-layer sealmaster bearing structure effectively blocks the intrusion of pollutants.
Generally speaking, there are several different types for us to choose from UCFC bearing, UCFL bearing, UCPA bearing, UCF mounted bearing, UCP flanged sleeve bearing. Since bolt bearing housing is a very simple housing, it is very easy to install and remove, so the versatility and interchangeability are very good. For example, the bearing of UC203 can match the bearing seat P203, FC203, PA23, F203, etc.
Pillow block PFFL203 bearing features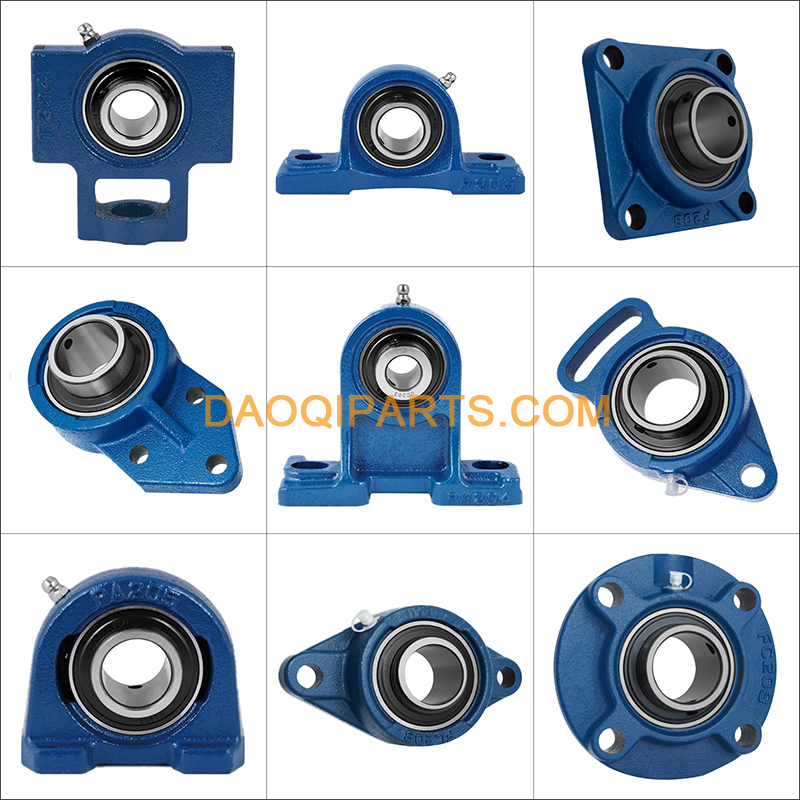 With a self-aligning function, it can withstand radial and axial loads at the same time.
Both sides are equipped with sealed to prevent the intrusion of dust.
We have 10 years warranty. before the order, free samples will be provided for checking quality.
More than 20 years of experience in OEM service. DAOQI PARTS is the famous brand-bearing authorized distributor,100% original products.
Can provide 7×24-hour online installation services and various maintenance instructions.
We provide installment payments for old customers.
Bolt bearing PFL203 size chart: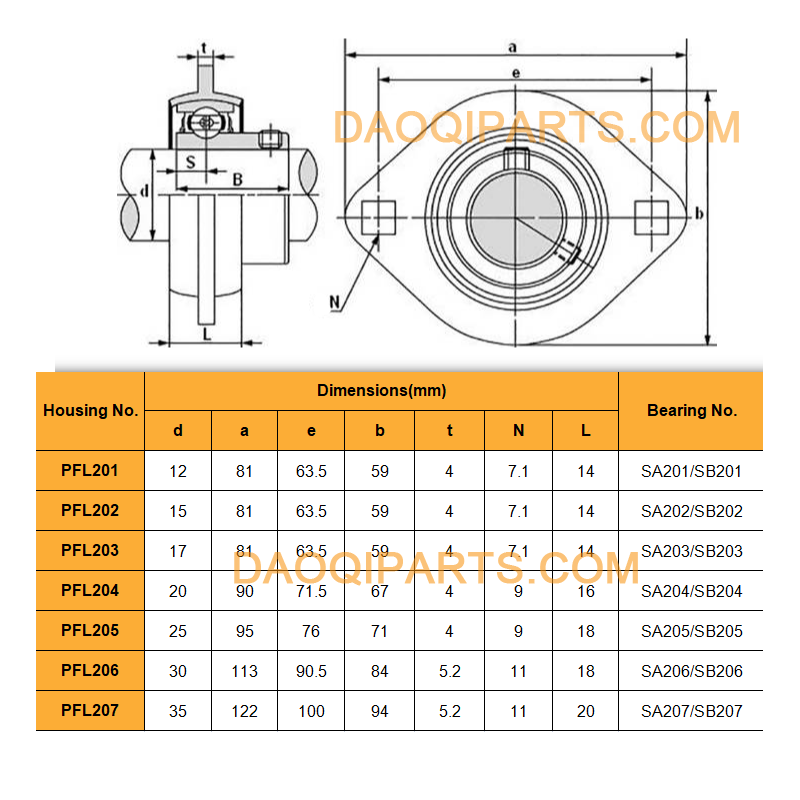 Pressed steel PFL203 bearing application:
PFL203 sealmaster bearing is suitable for rough machinery and work in external environments. Such as agricultural machinery, conveyor systems, or construction machinery. Usually, both sides of the bearing are equipped with seals to prevent the intrusion of dust. Flange bearings are designed with a certain degree of alignment, which can compensate for installation errors and can work in any environment. The main material of the bearing seat is cast steel, which has excellent rigidity. It will not deform during installation and removal and is durable in any working environment. In any case, we are the best supplier of quality bearings.
The best bearing suppliers of DAOQI PARTS
AS the best flange bolt bearings suppliers, we can provide for customers:
1. Large bearings home depot—we are a professional bearing manufacturer. We have warehouses in China, Hong Kong, and Malaysia so that orders will dispatch to your factory more quickly.

2. Minimum order quantity—our minimum order quantity is 1 set. Whether you are a distributor or end customer, we will provide you with the best quality service.

3. Payment methods-Western Union, TT, Paypal. We support various payment methods. At the same time, if you are financially inconvenient, we support paying 50% before delivery, and then paying the balance after you receive the goods and check them correctly.

4. Free samples-we will provide you with free samples before placing the order. We support OEM, ODM services. If you want to know more about our product, please contact us, we will be online 24hours.