Bearing SNL 528
Type:
Pillow block bearing housing
Contact:
Whatsapp&wechat: +86-13793139361
Short description
DAOQI PARTS are the best supplier for all kinds of pillow blcok bearing and bearing housing, 10 years warranty, best price, free samples, more than 20 years OEM service.  More details about bearing housing SNL 528 please contact us.
The role of the bearing SNL 528
In short, the pillow block bearing housing has two very important functions: one is to support the bearing. It can fix the outer ring of the bearing, only allow the inner ring to rotate and always keep the same with the transmission direction (such as the motor direction), and keep the balance. Another important function is to protect the bearing. Bearings tend to corrode or rust when used in harsh environments. The protection of the pillow block bearing effectively prolongs the service life of the bearing. There are two kinds of bearing housing types: split bearing block and flange bearing housing. The pillow block SNL 528 we are going to introduce today is a plummer block bearing.
Maintenance of SNL 528 bearing housing
The biggest difference between the bearing holder and the roll bearing is that the bearings block is almost maintenance-free. Pillow block bearing SNL 528 is almost maintenance-free. A large 2 bolt bearing are made of high-temperature cast iron or cast steel for high wear resistance and high pressure resistance. We can provide 10 years of warranty service. When replacing self aligning bearings, we need to carefully clean the inside of the pillow block flange bearing to avoid wear and bumps. There are SN series, SNL series, and SD series of bearing housings according to the difference between supporting the bearing and shaft outer diameter. For example: SNL520, SD3134, SN 520, etc.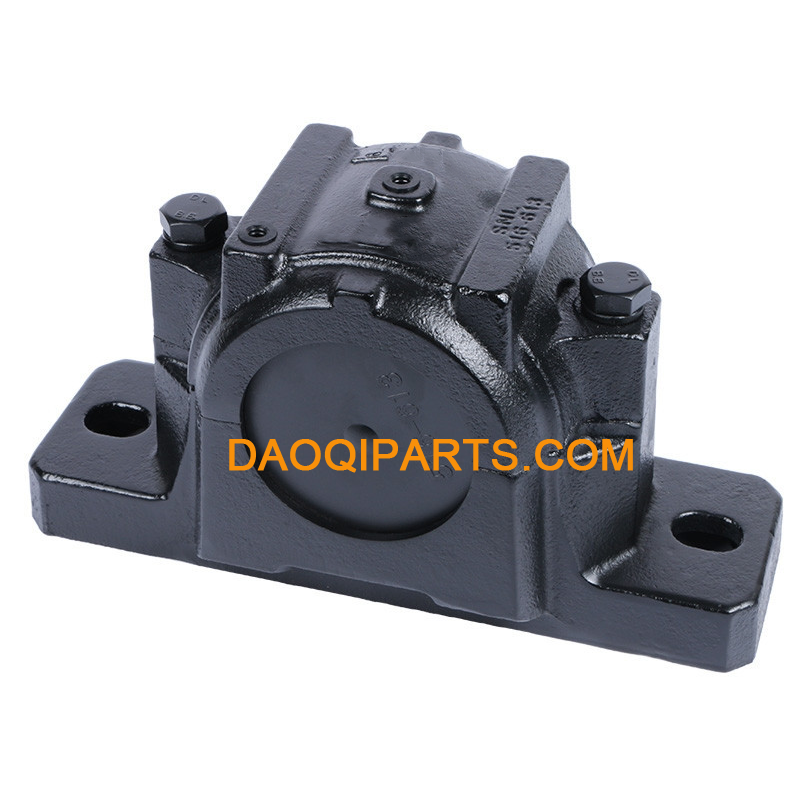 Plummer block bearing SNL 528 features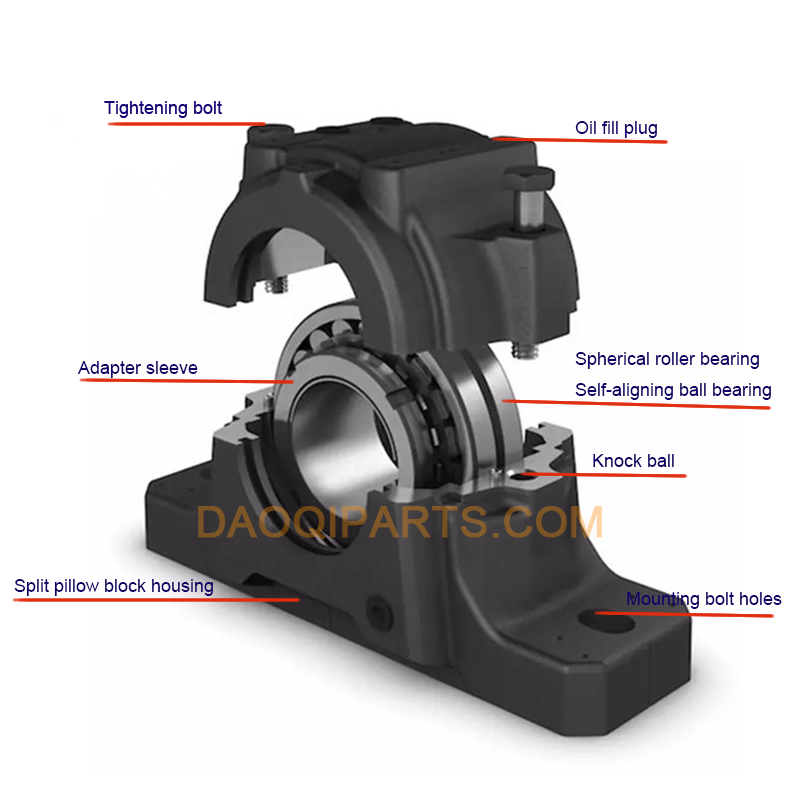 High-strength manufacturing, durable, strong endurance, high processing accuracy.
We can provide OEM/ODM service, all sizes will follow your request.
It is suitable for large machinery and almost maintenance-free.
If you want to know more types of pedestal bearings size, please contact us. We will provide a free 3D drawing.
More than 20 years of experience in taper roll bearing service. DAOQI PARTS is the famous brand-bearing authorized distributor,100% original products.
Flange bearing SNL 528 size chart: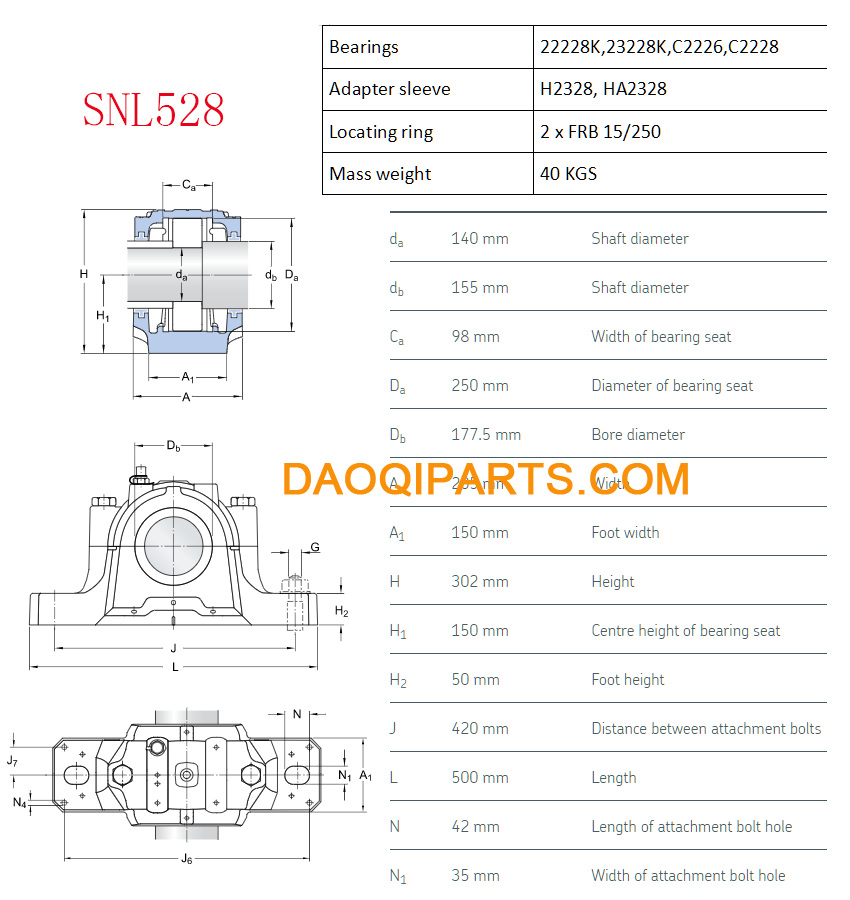 Other types of pillow block bearing: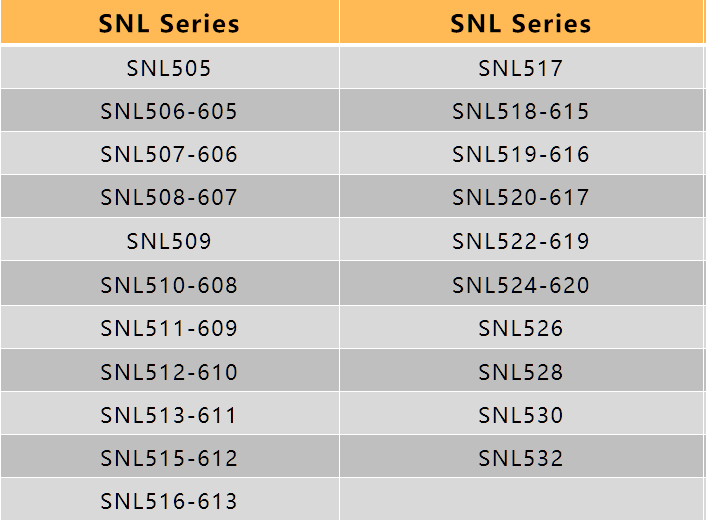 Application of the SNL 528 housing:
The upper cover and base of the pedestal bearings Plummer block SNL 528 are separable and mainly carry radial loads. It is suitable for spherical roller bearings and self aligning ball bearings with cylindrical and tapered bores. Spherical bearings need to be used with sleeve bearing. Applications include steel mill belt processing equipment, fans, and blowers, paper machinery, crushers, shredders, logging industry, etc.