Wheel bearing removal tool
Model:
Bearing puller tool 30T
Contact:
Whatsapp&wechat: +86-13793139361
Short description
Bearing removal tools are essential tools for dismounting roller bearing and ball bearings. The bearing puller tool uses the principle of leverage to slowly move the damaged bearing out. Light weight and small size, suitable for various places such as maintenance factories. According to the size of the bearing, we can provide different pressure, there are 5T, 10T, 15T, 20T, 30T, 50T.
How to use the Wheel bearing removal tool?
Wheel bearing removal tool is a mechanical device used mostly for removing broken bearings from shafts. The three primary components of bearing removal tools are the grappling hook, wheel rotating rod, and rotary handle. Typically, the bearing puller tool has two claws and three claws. For different versions of hub pullers, the screw length, the distance between the claws, and the length of the claws vary. in order to adjust to bearings with various axial installations and bearings of various sizes.
When in use, set the pulling claw so that the pulling hook is on the outer ring of the bearing and align the tip of the screw rod with the shaft's center. To remove the bearing, slowly turn the screw rod such that the claw engages it and slowly travels outward. The simplest method of removing bearings is this. Disassembling thrust bearings, angular contact ball bearings, and deep groove ball bearings is relatively easy. However, the requirement to manually rotate the screw is its main drawback. Work is labor- and time-intensive, and productivity is generally low. It is advised to get it if only a limited amount of disassembly is required.
Technology is advancing constantly, and DAOQI PARTS has created a hydraulic bearing separator and blind bearing puller that functions similarly to a manual pilot bearing puller. The hydraulic pump's pressure is used to remove the bearing. It significantly reduces operation time as well as hassle and effort. The entire claw foot is heated during treatment, making it strong and long-lasting. It is not constrained by the environment of the site and can be used both horizontally and vertically. Because each country does not use the name of the bearing, it is also called wheel bearing removal tool, wheel bearing puller tool, bearing remover, etc.
Advantage of the bearing puller: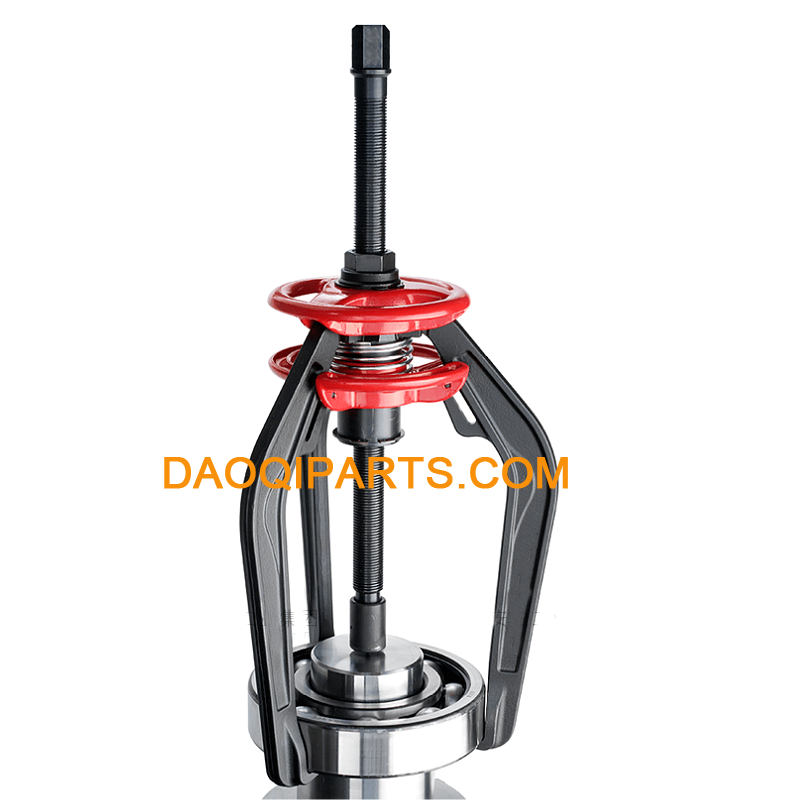 High-strength manufacturing, durable, strong endurance, high processing accuracy.
We can provide OEM/ODM service, all sizes will follow your request.
Carrying a large load: According to the size of the bearing, we can provide different pressure, there are 5T, 10T, 15T, 20T, 30T, 50T.
Three claws and two claws can be switched randomly. Hydraulic bearing pullers save time and effort. Suitable for large industrial equipment.
DAOQI PARTS can provide lifetime after-sales service, 7×24 hours online services. more than 20 years experience for OEM service, professional designer for customization, and precision technical support.
Wheel hub puller size chart: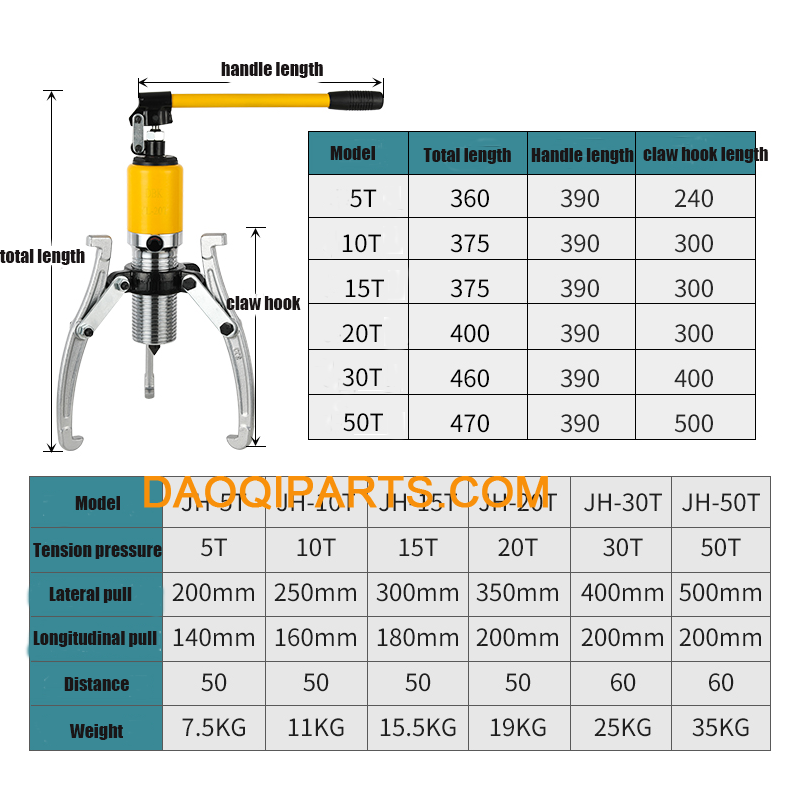 More details for Wheel bearing removal tool