metal bearing 7016
Type:
Angular contact ball bearing
Contact:
Whatsapp&wechat: +86-13793139361
Short description
DAOQI PARTS  are one of the professional bearing suppliers in china. The best price and free samples steel ball bearing 7016A will be provided for all customers. Please don't hesitate to contact us. More than 20 years of OEM ,ODM services.
Design of metal bearing 7016
Metal bearing 7016 ball bearing is a kind of steel ball roll bearing. it has a contact angle of 40 degrees, so it can withstand large axial loads. To improve the capacity of the angular contact precision bearing 7016, the inner and outer rings of the high speed bearing are designed with different heights, which can carry more steel balls. When space is sufficient, engineers usually use two single row angular contact ball bearings instead of double row angular contact ball bearings. In general, it is also known as angular ball bearings, radial ball bearings, contact bearings, and wheel bearings.
We can provide 3 kinds of bearing cage: brass cage, steel cage, and nylon cage. Among them, nylon retainers are the most widely used. This is because its material is slightly tough and can maintain the maximum inclination.
Steel ball bearing 7016 features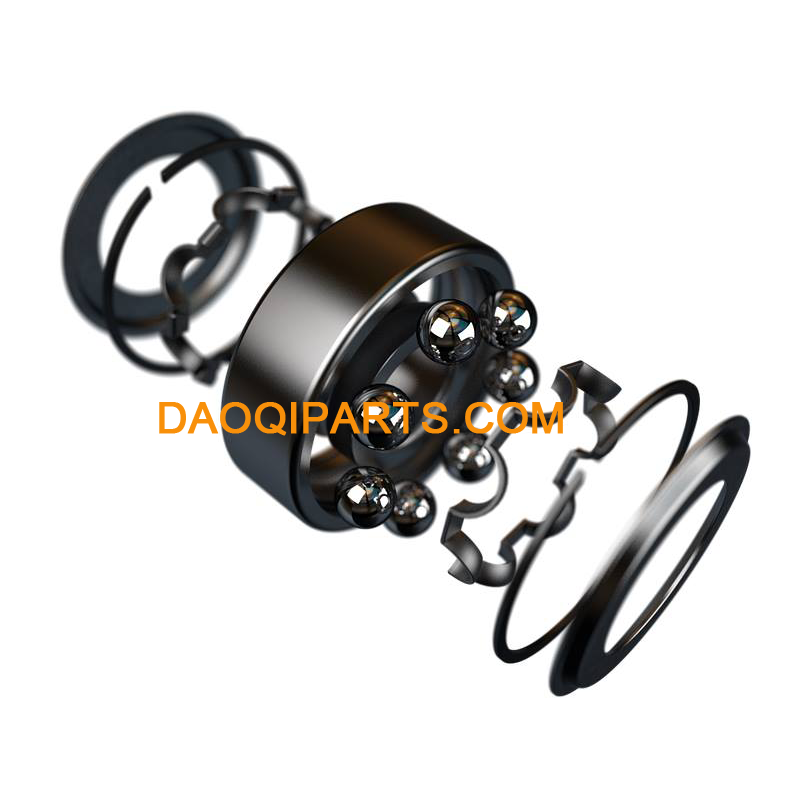 With a self-aligning function, it can withstand radial and axial loads at the same time.
Bearing industries, very high limit speed. We have a 3-year warranty. Before the order, samples are free to send to you for quality tests.
In the case of the same size, it has a larger load capacity than the groove ball bearing.
We provide installment payments for old customers.
More than 20 years of experience in OEM service. Bearing industries authorized distributor,100% original products.
7×24-hour online installation services and various maintenance instructions.
How to install ball bearing 7016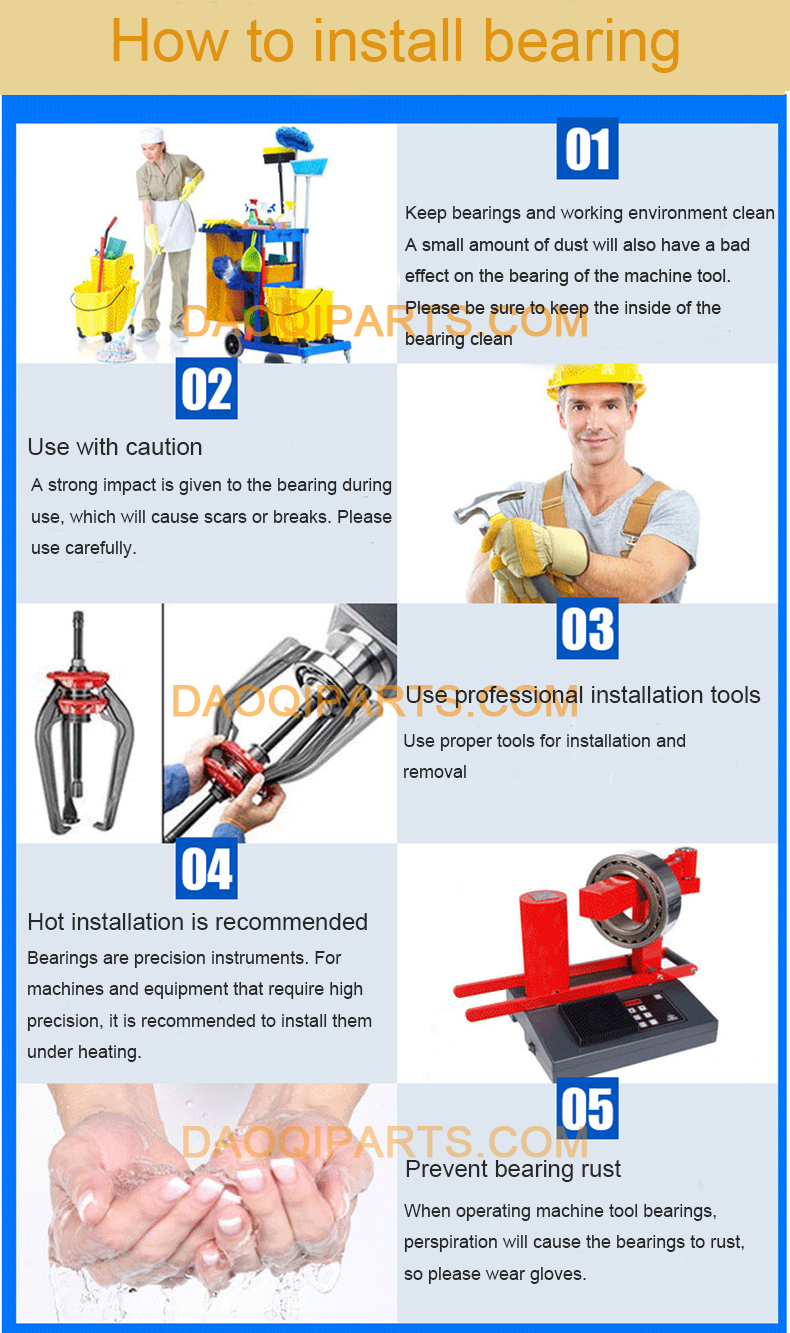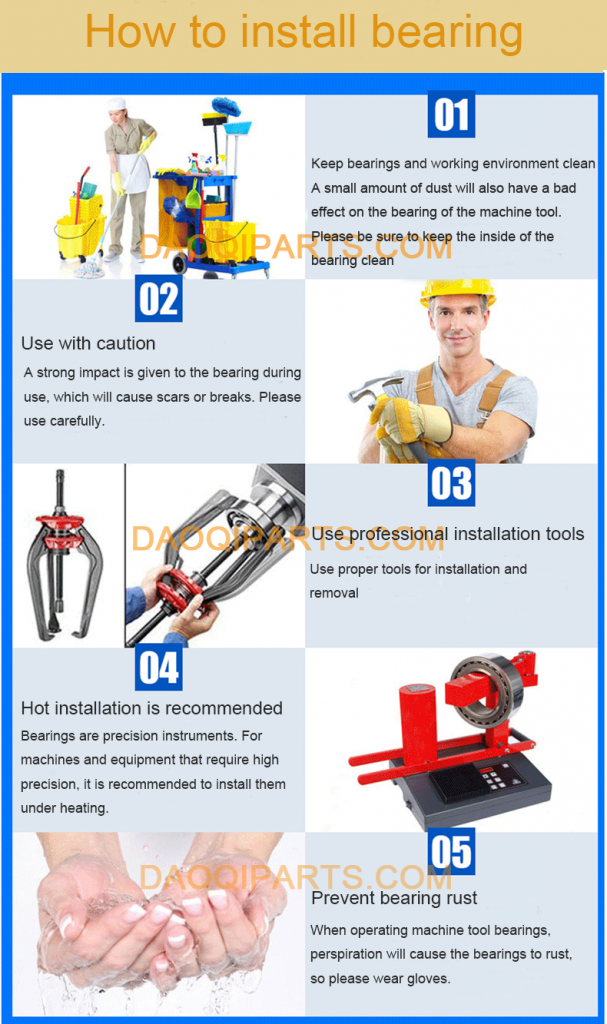 Application of bearing 7016BEP
Contact ball bearings 7016 is a kind of steel ball bearing. It is a cage of bearing. It is suitable for high-speed and high-precision rotation. The greater the contact angle, the greater the load. Single row angular contact ball bearing is mainly used in: machine tool spindles, high-frequency motors, gas turbines, centrifugal separators, front wheels of small cars, and pinion shafts of differentials;
Double row angular ball bearing is mainly used in oil pumps, roots blowers, air compressors, various transmissions, fuel radiation pumps, and printing machinery.
The best bearing suppliers of DAOQI PARTS
AS the best metal bearing 7016 suppliers, we can provide for customers:
1. Large ball bearings home depot—we are a professional bearing manufacturer. We have warehouses in China, Hong Kong, and Malaysia so that orders will dispatch to your factory more quickly.

2. Minimum order quantity—our minimum order quantity is 1 set. Whether you are a distributor or end customer, we will provide you with the best quality service.

3. Payment methods-Western Union, TT, Paypal. We support various payment methods. At the same time, if you are financially inconvenient, we support paying 50% before delivery, and then paying the balance after you receive the goods and check them correctly.

4. Free samples-we will provide you with free samples before placing the order. We support OEM, ODM services. If you want to know more about our product, please contact us, we will be online 24hours.