Cam and follower CF10-1
Type:
Needle roller bearing
Contact:
Whatsapp&wechat: +86-13793139361
Short description
Cam follower bearing CF10-1 called cam followers bearings. DAOQI PARTS are the best supplier for all kinds of cam and follower, three years warranty, best price, free samples, more than 20 years OEM service.  
Cam and follower CF10-1 classification
Cam and follower CF10-1 is a kind of needle bearing, but its structure is very special. One end of the bearing is a needle bearing with full complement of rollers, and the other end is a bolt with a nut. Its advantages are very obvious, one end with a nut is fixed on the mechanical equipment, and the other end drives the equipment to operate without worry. The bearing can not only withstand heavier axial loads, but also allow high-speed operation. However, since it is a full complement needle roller bearing, it is necessary to replenish the bearing lubricant frequently.
Cam follower bearing can be divided into many series due to different bearing mechanisms: NUKR series, NUKRE series, KR series, CF series, etc. So please contact us if you have any custom bearing plans. We will have detailed drawings for different models. For more details, please contact customer service. We will provide you with free drawings.
Cam follower bearing CF10-1 features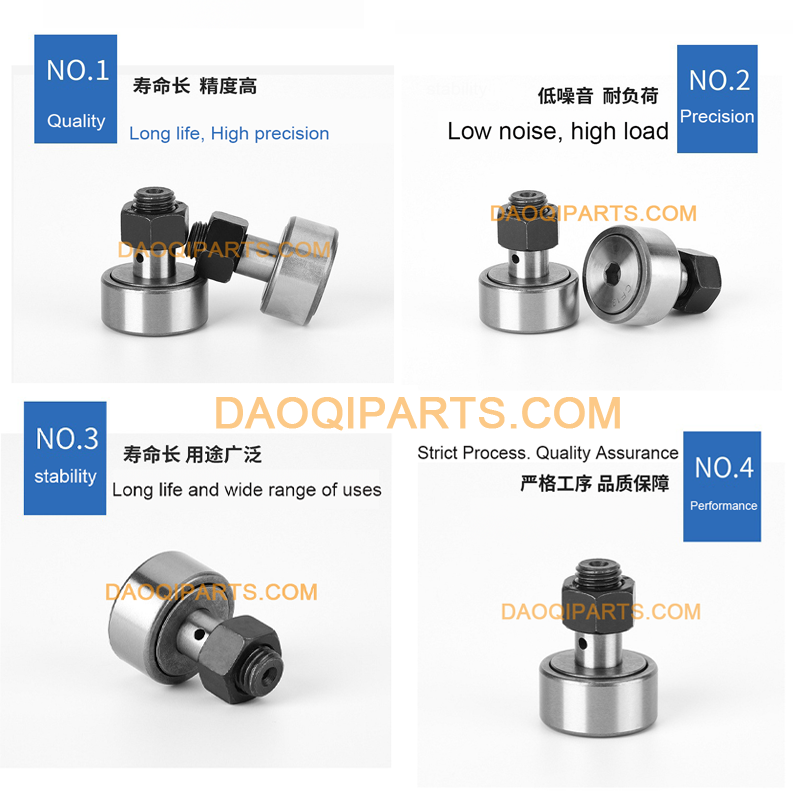 The friction coefficient is smaller than that of sliding bearings, and the transmission efficiency is higher
CF10-1 Cam rollers outer ring has two ribs, fully sealed structure, longer service life.
It is suitable for printing presses, steel plants, agricultural machinery, etc.
Roller follower thick-walled outer ring surface of the roller is arc-shaped, which can carry more force
we already build up our own warehouse on HONGKONG, Malaysia for fast delivery time.
Cam follower bearing CF10-1 supplier:
DAOQI PARTS is a professional company bearing manufacture and bearing distributor, after 20 years of hard-working, now become one of the leading dealers in the bearing industry. Our scope of business throughout all over the world, Now we have built up our warehouse in HONGKONG, Malaysia. Meanwhile, we can provide sealed roller bearing, needle thrust bearing, tapered wheel bearing, split roller bearing, conveyor bearings, cross roller bearing, taper roll bearing, etc. For all products, we provide 3 years warranty and free sample service. More cam and follower we can provide: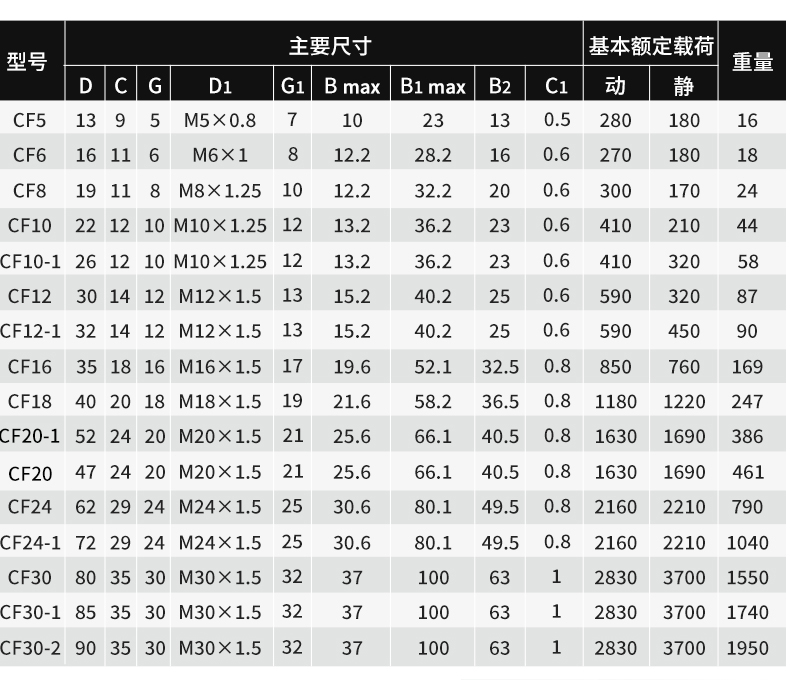 Roller follower CF10-1 size chart: