Taper bearing 32015
Type:
taper roller bearing
Contact:
Whatsapp&wechat: +86-13793139361
Short description
DAOQI PARTS are one of the professional bearing suppliers in china. Taper roller 32015 is a simple roller bearing, suitable for high-speed rotating machinery and equipment. At the same time, we provide free sample and have 3 years warranty .
Taper bearing 32015 suppliers:
Taper bearing 32015 suppliers–DAOQI PARTS is a professional company wholesale bearings and bearing manufacturer, after 20 years of hard working, now become one of leading dealers in of the bearing industries. Our scope of business throughout all over the world. Now we already built up our own warehouse in HONG KONG and Malaysia. Because we have introduced advanced production equipment and technology from the United States, for all sealed roller bearings, we provide 3 years warranty and free sample service. If you need more tapered wheel bearing, please don't hesitate to contact us. DAOQI PARTS bearing suppliers have more than 20 years of OEM and ODM services. If you need any tapered roller bearing 32015, we are your best choice and partner.
taper roller 32015 bearing features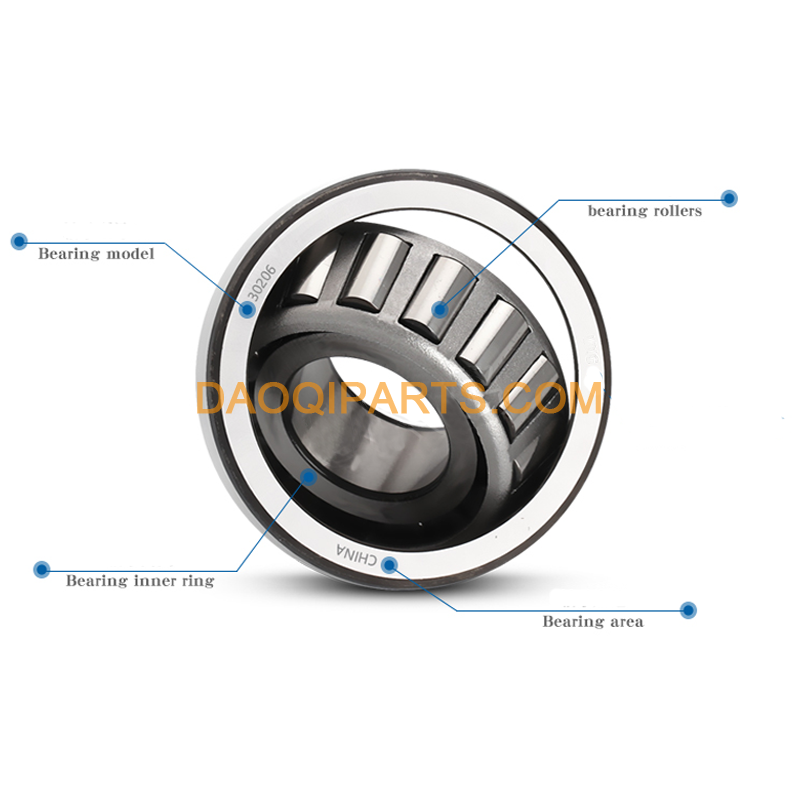 Under the same rotational speed, split roller bearing can bear more directional loads than cylindrical rollers.
Separable bearing for easy installation and disassembly. Low friction resistance, low noise, and high capacity.
We can provide more taper roller bearing size charts, such as inch size taper bearing.
Provide 7×24-hour online installation services and maintenance service.
We provide installment payments for old customers.
DAOQI PARTS are a china manufacturer for different types of bearing. We have ball bearings home depot on Hong Kong, Malaysia. The large inventory to ensure fast delivery time, only 2-3 days.
taper bearing 32015 size chart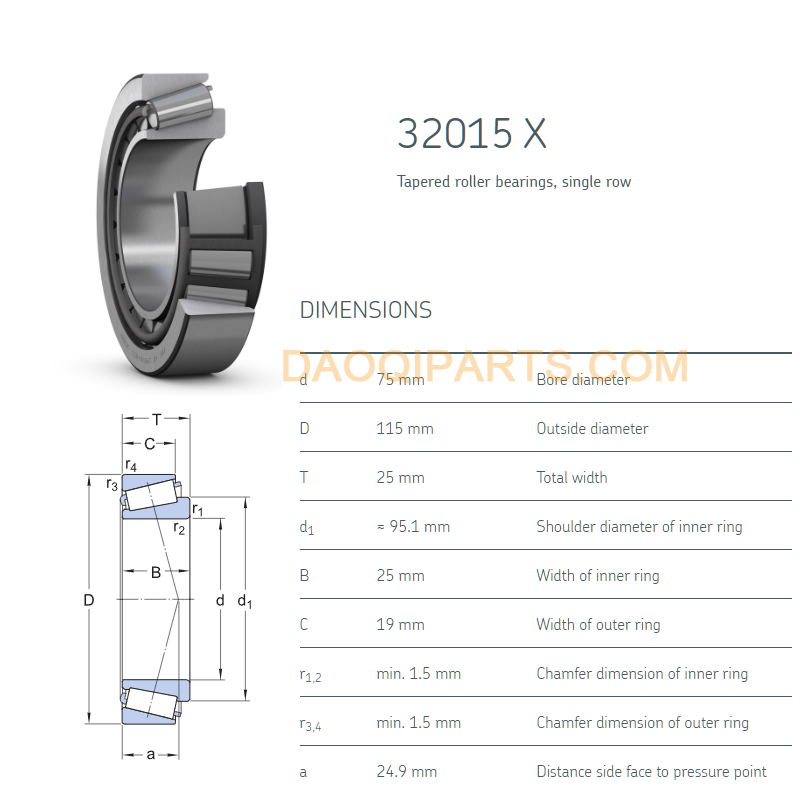 Cup bearing 32015 application:
Taper bearing 32015 inner ring and outer ring are separable, which is very easy to install.
Single row taper bearing is suitable for various industrial equipment and other fields with high speed and low noise. Such as office equipment, micro motor, instrument, laser carving, a small clock, soft drive, and other fields.
Multi-row tapered bearing is mainly used in Large-scale mining machinery, excavators, machine tool manufacturing plants, forklifts, and other industrial equipment.

OEM service for inch size roller bearing
DAOQI PARTS provide 7×24-hour online service. All products have 3 years quality warranty. Radial roller bearing can provide OEM services in a variety of sizes, materials, and varieties according to customer needs. Include special industrial uses, such as high temperature applications. We have more than 20 years experience of in OEM and ODM service. Therefore, if you have any customized bearings plan, please contact us. We will provide you with free drawings. No matter where, as long as there is equipment operation and power transmission, we can see torrington bearing technology and services. Therefore, inch size taper roller bearings are also very popular. DAOQI parts introduction U.S. technology and services to provide you with the highest quality products.