Ball bearing KH3050PP
Model:
Linear ball bearing
Contact:
Whatsapp&wechat: +86-13793139361
Short description
DAOQI PARTS are the best supplier for all kinds of linear ball bearing. We have a sizable inventory of linear ball bearing KH3050PP, flange linear bearing, and linear guideways rail in our warehouses in Thailand and Hong Kong. Please contact us 7×24 hours.
The advantage of ball bearing KH3050PP:
Linear ball bearing KH3050PP is a type of ball bearing that has excellent precision, cheap cost, and low friction resistance. However, in order to achieve the linear motion system, it mus be employed in conjunction with the guide shaft. It is widely utilized in mechanical equipment, automation equipment, and energy-saving equipment. Among all the ball bearing, the most frequent models are the LM8UU bearing, LM10UU bearing, and LM12UU bearing. The most easy for installation and disassembly among linear bearings is the one with a flange on one end that is fixed to the apparatus and a shaft that drives the movement of the other end.
In terms of aesthetics, there are many different types of linear bearings. Liner rail, liner guideway rail, and ball bushing. Among them, THK, IKO's liner ball bearing, and HIWIN linear rail are particularly well-liked. Naturally, linear bearings have a number of very clear disadvantages. Both the bearing capacity and the amount of noise produced during high-speed movement are relatively poor. Therefore, extra consideration should be given to the material choice, and stainless steel is advised.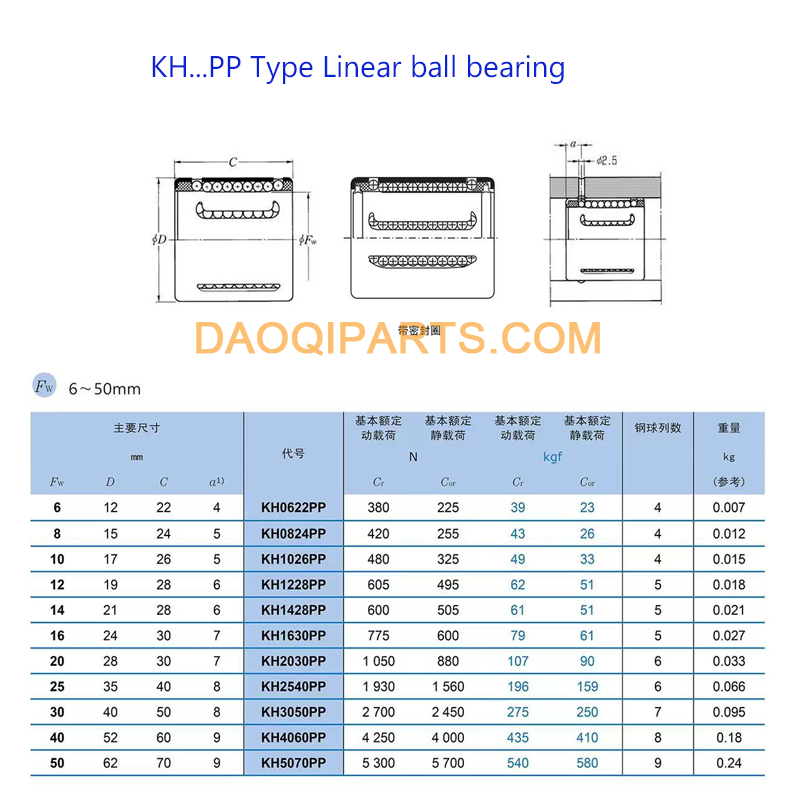 Features of linear bearing KH3050PP: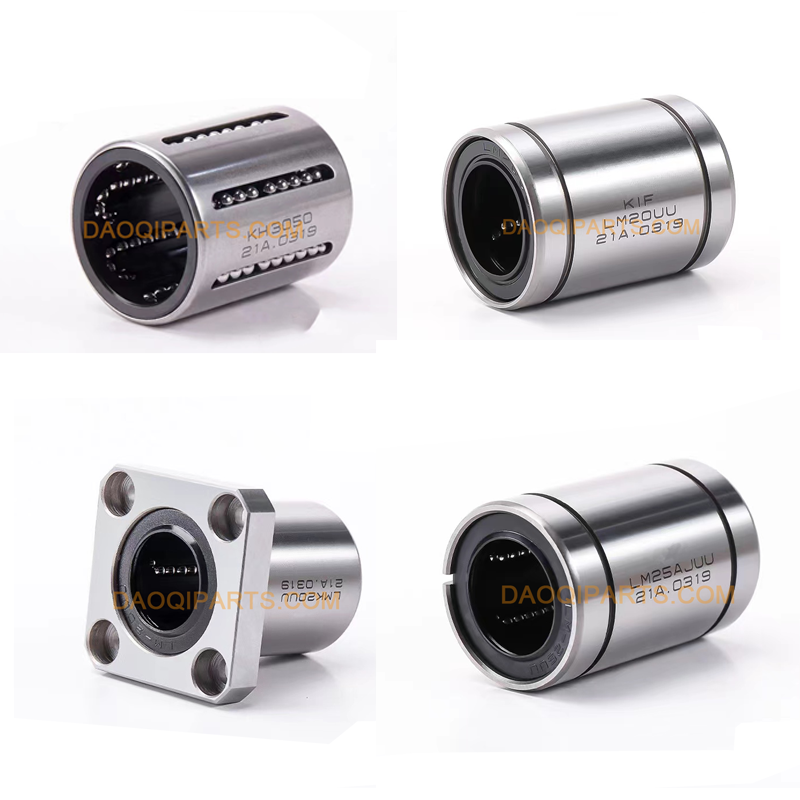 KH3050PP bearing is KH series Mini pressed steel bush linear ball bearing.
LM, LM-MG,LME series normal types linear ball bearing.
LMF,stainless LMF-M,LMK, stainless LMK-M series flange linear bearing.
LM, KB,SW series linear bearing adjustment types.
In addition, we can provide HIWIN slider rails, free 3D drawings, installation, disassembly, and other complimentary services.
Linear ball bearing KH3050PP features:
1.High movement speed, high precision and long service life:
Because the flow contact can reduce starting friction resistance and movement friction resistance very small, it can save energy and achieve a higher movement speed.
2.Extensive load capacity:
There is no sensitive change in the coefficient of friction as the load increases.As a result, under heavy load, the friction coefficient is extremely small, and the accuracy remains constant for an extended period of time, extending the mechanical service life.
3.Simple to set up and maintain:
Linear bearings have excellent interchangeability and are simple to install and use. Slide the bearing onto the shaft and secure it with the axle bracket. Because of the low friction, a typical linear bearing application requires little maintenance over its lifetime. And the installation space required is minimal.
4.Simple to lubricate:
The contact surfaces of conventional sliding systems wear out due to a lack of lubricating oil. The grease is easily applied to the shaft and then transferred to the linear bearing's circulation system.