Plain Bearing GE30ES
Type:
Spherical plain bearing
Contact:
Whatsapp&wechat: +86-13793139361
Short description
Plain bearing GE30ES is a special type of rolling bearing. Although it has no rolling elements, it has good wear resistance, can rotate at will, and is very strong. It can withstand various loads from the outside world. The life of the plain bearing is quite long and can be used flexibly.
Features of the plain bearing GE30ES
The spherical plane bearing GE30ES is a sliding spherical bearing. It can be simply understood as consisting of two spheres; an inner sphere and an outer sphere. Its the biggest advantage is that it can swing in any direction at any angle. Due to the special material of the spherical plain bearing, its load capacity, impact resistance, corrosion resistance, self-aligning, and self-lubricating properties exceed other types of rolling bearings. But its turn is very slow.
The allowable working temperature of plain shaft bearing is mainly determined by the material of the bearing sliding surface. If it is a self-lubricating plain bearing, the working in a high temperature environment will lead to a decrease in the bearing capacity. The general required working environment is -30~80 degrees Celsius.
Spherical plain bearing GE30ES features: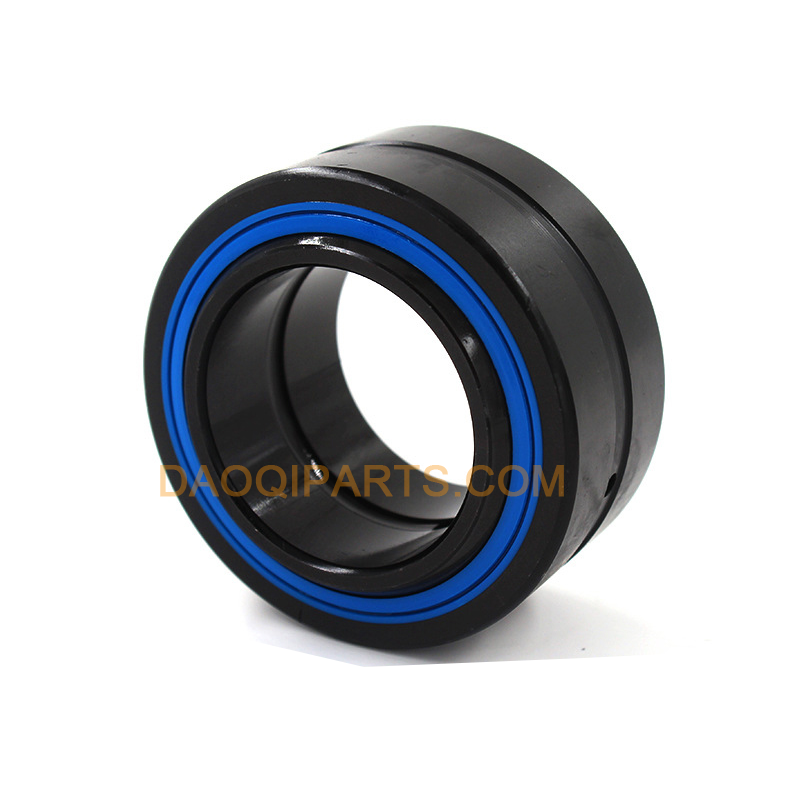 High-strength manufacturing, durable, strong endurance, high processing accuracy.
We can provide OEM/ODM service, all sizes will follow your request.
Carrying a large load: According to different types and structures, plain shaft bearing can bear radial load or axial load. or combined axial and radial loads.
The outer spherical surface of the inner ring and the inner spherical surface of the outer ring of the radial spherical plain bearings are special materials that can produce self-lubrication during operation. Then extended the service life of GE bearing.
The tilting angle of the plain bearing bush is much larger than that of the general spherical roller bearing and the self-aligning ball bearing, which makes them very suitable for use in supporting parts that do not require high concentricity.
Spherical radial bearing GE30ES size chart: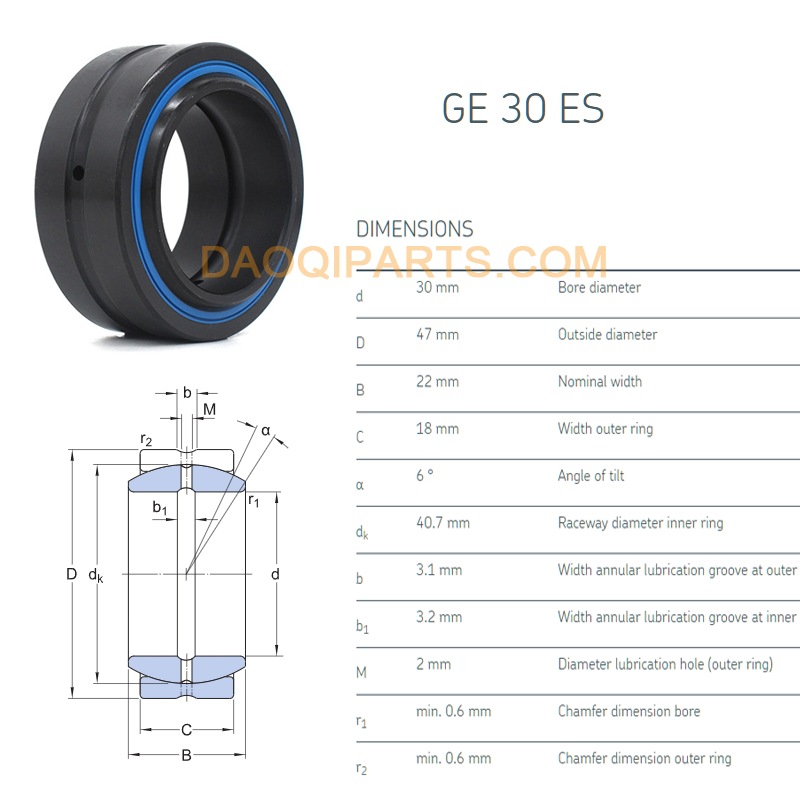 Spherical plain bearing types:
1. GE…E type: single outer ring, no lubricating oil groove. It can withstand radial loads and small axial loads in either direction.
2. GE…ES type: single-slit outer ring with lubricating oil groove. It can withstand radial loads and small axial loads in either direction.
3. GE…ES-2RS, and GEEW…ES-2RS type: outer ring with a single slit, a lube groove, and seals on both sides.
4. GE…HS type: the inner ring with a lubricating oil groove, a double-half outer ring with adjustable clearance after wear.
At the same time, according to its different shapes, it can also be divided into radial spherical plain bearing, angular contact plain journal bearings, and spherical bearings rod ends. Among all spherical plain bearings, rod ends are the most widely used. One end of it is a spherical bearing, and the other end is with internal thread or external thread, which needs to be used with the same diameter as the mechanical equipment end.