Thrust bearings types:
Generally speaking, there are two types of thrust bearings, including thrust roller bearing and thrust ball bearing according to the different rolling elements. Among them, thrust roller bearings include thrust cylindrical roller bearing, thrust spherical roller bearing, and thrust needle roller bearing. The thrust bearing is the most common thrust pad radial bearing, which can only carry an axial load and cannot carry a radial load. It cannot limit the radial displacement of the shaft, and the limit speed is very low. Widely used in crane hooks, centrifugal pumps, reducers, etc.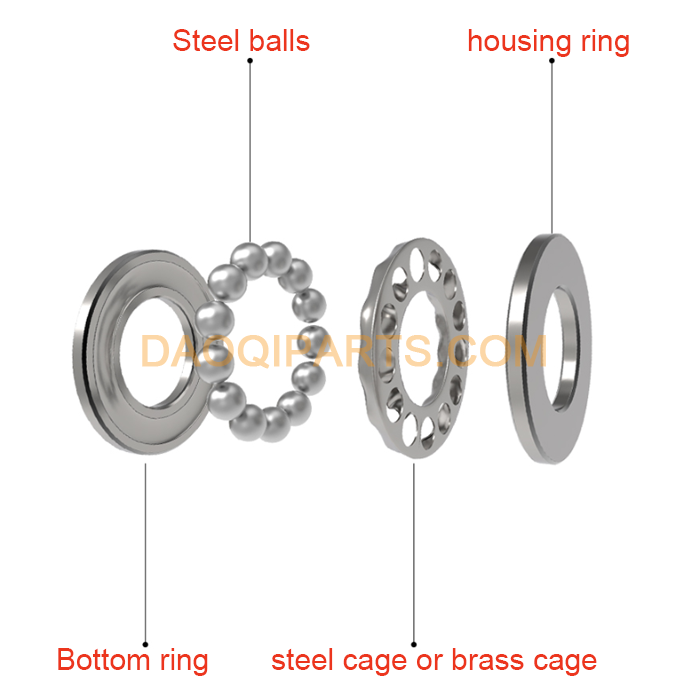 Thrust bearings play a very importance role in machinery and equipment. How can we extend its service life?
We consider the problem in the opposite direction. What can shorten the service life of the bearing? As long as we operate in the reverse direction, the life of the bearing can be greatly improved.

1.50% of bearings are caused by dust, dirt, and debris entering the gap of the bearing, causing resistance when the machine is running, and causing damage to the bearing over time. Therefore, we must ensure the working environment of the bearing, and choose a housing or a sealed bearing when necessary.

2. Ordinary bearings work under high-temperature for a long time, causing equipment failures such as cracks. In this case, we have to choose high-temperature bearings or ceramic bearings.

3. Quality problems of imitation brand bearings. We should buy original bearings from regular channels. DAOQIPARTS is a regular agent in China, if you want to buy a famous brand bearing, please don't hesitate to contact us. DAOQI parts also provide 3D-free drawings for all customers.